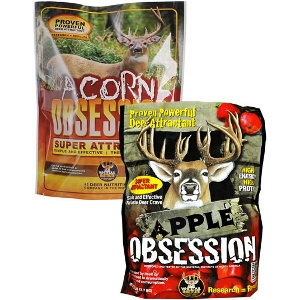 Acorn & Apple Obsession
Manufacturer: Whitetail Institute of North America
Obsession is a granular attractant that smells draws deer from long distances Powered by Devour, a proprietary taste and scent enhancer, Obsession can become highly addictive to deer. Obsession isn't just an attractant – it also benefits deer nutritionally with an astounding 24% protein.
Fortified with essential minerals and vitamins, to boost energy levels for Fall and Winter. Obsession is easy to use and is perfect for hunters who don't have the time to plant food plots but want to draw deer to specific locations. Obsession can be poured directly on the ground, or added to feed to dramatically increase food consumption. Available in Acorn or Apple flavors. Try both and let your deer tell you which they like best.
EXTREMELY attractive to deer, especially in the early fall and winter.
Extremely easy to use.