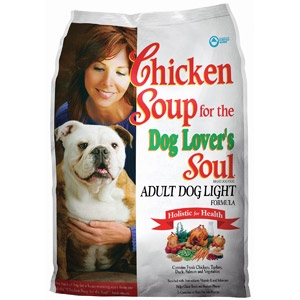 Chicken Soup for the Pet Lover's Soul® Adult Light Dog Formula
Manufacturer: Diamond Pet Foods
Enriched with key antioxidants and L-Carnitine, this specially balanced diet helps adult dogs turn fat into energy. Low fat and high fiber will help overweight dogs return to a healthy lean body condition.
Protein: 20% Fat: 6%
Calories: 3,088 kcal/kg (289 kcal/cup) Calculated ME
Available in 6 lb, 18 lb, and 35 lb bags.