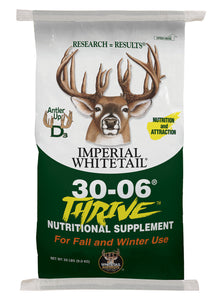 Whitetail Institute 30-06 Thrive Rut Supplement 20 Lbs
---
---
Like other Imperial Whitetail 30-06 supplement products, 30-06 Thrive Nutritional Supplement is scientifically designed to provide the nutrition deer need during a specific part of the year. Unlike other 30-06 deer products, which are purpose-built to deliver nutrition deer need during the spring and summer, 30-06 Thrive is specifically formulated for the fall and winter.
Fall and especially winter can be rough on deer. Dwindling food sources, the rut and energy-sapping winter weather can take a heavy toll on deer health, and bucks can lose up to 20% of their body weight. And bucks must recover their winter health losses before they can begin devoting more nutritional resources to antler growth the following spring.
The 30-06 Thrive rut supplement is scientifically formulated with a specific balance of energy, protein, mineral and vitamin components including Antler-Up D3 to help deer maintain body weight and overall health during the fall and winter. It's nutrient-dense for winter stamina, helps deer maintain muscle and bone mass, replenish critical minerals and vitamins, and it includes antioxidant nutrients that help deer maintain a healthy digestive system and aids in muscle and tissue recovery. 30-06 Thrive also contains Devour®, the Whitetail Institute's exclusive scent and flavor enhancer that's extremely attractive to deer.
---
We Also Recommend