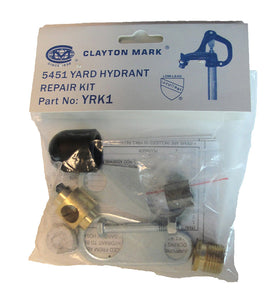 HYDRANT REPAIR KIT 5451 SERIES
---
---
NO LEAD Series Frost Proof Yard
Hydrant Features:
• Fully frost proof, shut-off valve below frost line.
• Heavy cast iron head with 3/4" brass discharge connection
and bucket hook.
• Can be padlocked.
• Heavy, galvanized steel, corrosion resistant, 1" stand-pipe.
• Galvanized carbon steel connecting rod. Stainless steel
operating rod.
• Long lasting Buna-N rubber plunger with solid brass core.
• Integral valve seat cast into brass valve body. 3/4" FPT connection with
double bypass bottom valve for superior flow, less risk of debris blockage.
• 1/8" FPT back drain hole.
• Rated to 80 PSI, adjustable. See page 2.18 for adjustment procedure.
• Packed securely in individual heavy weight carton.
• Independent lab tested.
• Lead Free. Third party certified to NSF/ANSI 372.